Today, our party HDP held its 4th Extraordinary Congress and handed over its activities to the Green Left Party. The decision was made in response to potential risks arising from the closure case against our party.
During the extraordinary congress held in Ankara, our co-chairs Buldan and Sancar briefly stated following:
Pervin Buldan:
Up to this point, our struggle has endured through operations, trustee appointments, fabricated trials, and closure lawsuits. We want them (AKP and MHP) to see and understand that we stand firm against all of these tactics. Our fight extends everywhere—on the streets, in the fields, within prisons, and in courtrooms; it permeates every aspect of life. I express my infinite gratitude to those who have stood by me as comrades, supported me throughout my tenure, and provided guidance—especially our friends in prison, my fellow women comrades, the Peace Mothers, my people, and all my friends. I assure you that I will always stand by your side. This honorable struggle will undoubtedly prevail.
Mithat Sancar:
This congress does not mark the end of the process; rather, it represents one of the milestones of the process we initiated after Turkey's 14 May elections. Going forward, we will channel our experience and strength into the Green Left Party, but the HDP will continue to exist both in spirit and as an institution. The determination that will guide this country out of the cycle of violence and the dark abyss resides within us. As a member of this struggle at every level, I will continue to make every effort, together with our people. 
After the elections, Sultan Özcan and Cahit Kırkazak were elected as the new co-chairs.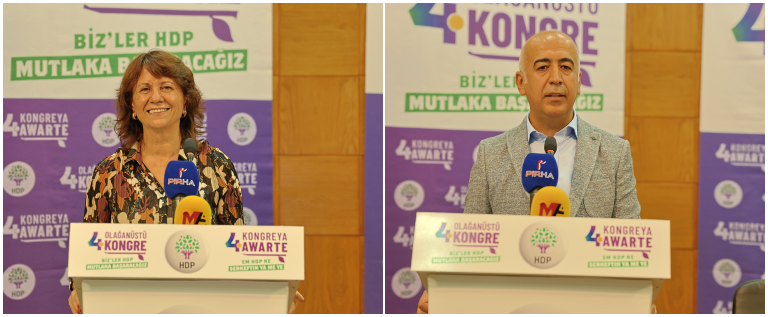 HDP also elected its party assembly and other central organs.
27 August 2023