The Members of European Parliament and lawyers from the UK, Ireland and Italy came to Diyarbakır and met with the representatives of human rights organizations, non-governmental organizations and political parties to support Leyla Güven. DTK co-chair and our Hakkari MP Leyla Güven is on hunger strike for 68 days in Diyarbakır prison to demand the end of the isolation imposed on Abdullah Öcalan.
The delegation consisting of Sinn Fein and Labour party MEPs Martina Anderson and Julia Ward, human rights defender Wendy Lyon of Ireland, UK human rights lawyer Margaret Owen and Italian lawyer Simonetta Rosella Benedetti went to Diyarbakır prison to visit Leyla Guven and was denied. 
The delegation held a press conference at the Amed Bar Association. In the statement, the SinnFein and European Parliament MP Martina Anderson said following:
I'd like to tell you my feelings after 48 hours in this city. Leyla Güven is a democratically elected politician. She is 55 years old and has been on hunger strike for 67 days.
Last night, we thought there might be a glimmer of a light about his situation. Leyla Güven is on hunger strike demanding the removal of the isolation imposed on Kurdish leader Abdullah Öcalan, who is detained in Imrali Island.
We know that Abdullah Öcalan has not been able to meet with his family for 2 and a half years, since 2016. In addition, he hasn't been allowed to meet with his lawyers since 2011. We learned that on Saturday he was allowed a visit [with his brother] of just 15 minutes. We had the impression that Saturday's visit was not a development that could be considered as meeting the demands of the people on hunger strikes. Because the hunger strike prisoners demand the complete abolition of isolation policy.
During the hunger strikes in 2016, a short visit was also allowed but the policies of isolation soon returned. The hunger strikers are asking to avoid any 2016-like tactic be carried out again.
We call on Turkey to end isolation and go back to the peace process. Turkey's government should put an end to torture in prisons, to repressive policies and to isolation. The only thing Kurds in Turkey are demanding is the right to live in peace.
MEP Julia Ward said following:
In Turkey elected MPs, lawyers, activists, trade unionists, everyone who dissents, gets its share of repression. Today we met with the Peace Mothers and felt the pain of their loss deeply in our hearts. The mothers continue to look for the remains of their children to have a grave to go to and be able to mourn for them. They want to continue their culture and language and for this they are suffering from repression. Before we came here, we initiated the necessary procedures to meet with Leyla Güven through the authorities in our countries. But today we were not allowed to meet her. As well as not being allowed to meet her, we were assaulted by the police who surrounded us. We're not young women, nor are we very strong. We certainly do not accept that they put their police officers against us. We, as elected deputies and lawyers, demand that such proceedings be terminated. We will tell the European Parliament about what happened to us here, the force used against us. We will tell Italy, England and Ireland. Because this treatment we suffered is a symbol of how freedom of expression has been buried deep.
Human rights lawyer Margaret Owen, from Britain said following:
I have been coming to Turkey for years, as an observer to hearings, elections, events. But I've never been so worried. Because Leyla Güven and 256 political prisoners are now on a hunger strike. And they have reached the threshold of death.
I felt the fear of being crushed by the police for the first time. And I saw the hatred in the eyes of these young policemen. I've seen people who have been policemen for fear of being unemployed. And I've seen these young people used as a tool of violence.
Summer does not come with a single sunny day. I mean to say that isolation does not end with a visit. We will continue to work as deputies, activists and lawyers here in Turkey with those defending an independent judiciary, independent media and independent organizations. It looks like we are seeing the dark side of the moon in Turkey. But we will do what is in our hands to put an end to this darkness and we'll continue to come to Turkey.
The delegation also met with our Diyarbakır district organization, the "Human Rights Association", "Human Rights Foundation of Turkey", "Diyarbakır Chamber of Doctors", "Diyarbakır Bar Association", "Mothers for Peace", "Democratic Society Congress", Leyla Güven's lawyers and her daughter Sabiha Temizkan.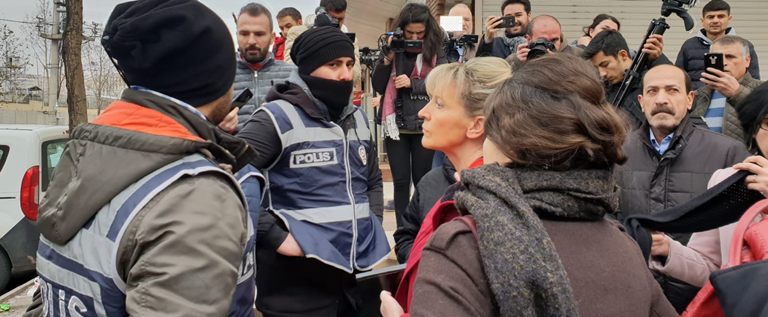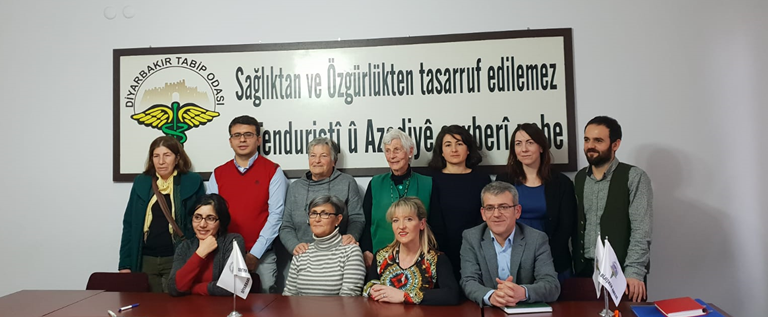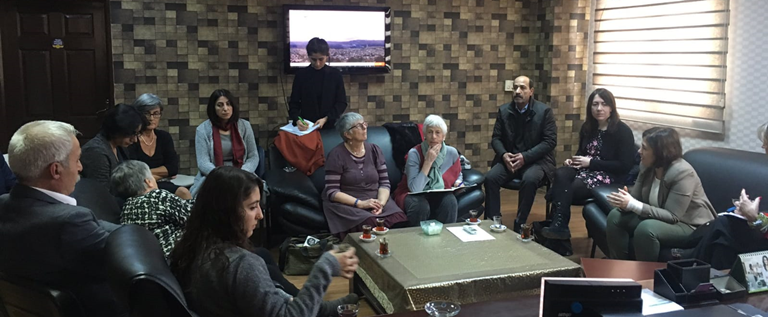 14 January 2019