In a bid to circumvent the risk of a possible closure ahead of the elections, our party HDP announced that it will participate in the elections under the banner of the Green Left Party (Yeşil Sol Parti), one of our constituent parties.
On March 30th, the Green Left Party announced its election manifesto at an event in Ankara. The manifesto, titled "We Are Here, Together We Will Bring Change", pledges to replace the current presidential system of governance with a democratic system that features a pluralistic parliament with broad powers, a robust separation of powers, and an effective system of checks and balances. It also aims to seek a democratic solution to the Kurdish issue and opposes policies of fighting and denial.
The Green Left Party stated in its manifesto that it aims to establish a robust local democracy, where the separation of powers extends to the local level, local governments have secure delegation of authority and resources, and central authority over local governments is eliminated.
The event was attended by various representatives from civil society organizations, intellectuals, writers, journalists, as well as representatives from the Green Left Party, the HDP, and the Labour and Freedom Alliance.
At the manifesto event, our Co-Chairs Pervin Buldan and Mithat Sancar, along with Co-Spokespersons of the Green Left Party Çiğdem Kılıçgün Uçar and İbrahim Akın, delivered speeches.
Sancar and Buldan gave the opening speech. Sancar made the following remarks: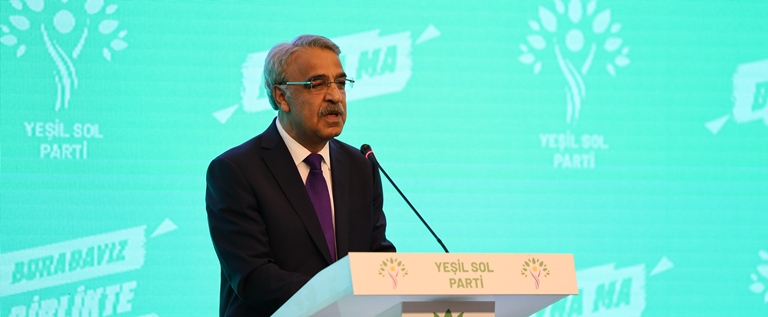 "We are here! We have not yielded to oppression, nor have we knelt under pressure. We have walked this path and now stand proud. We also learned to build a path against their conspiracies and frauds. We stand here for a democratic solution to the Kurdish issue and reject policies of fighting and denial. We strive for peace amidst hatred, animosity, and polarization. Together, we will bring about change!
We stand here to defend life against the glorification of death, to uphold truth, and to walk together on the path of truth. We stand against all forms of oppression and tyranny, and stand in solidarity with the oppressed, exploited, excluded, and all faiths. Together, we will bring about change.
We stand here to establish local democracy and challenge centralist oppression. We aim to increase courage and spread it against fear."
Then Pervin Buldan, took the stage and said the following: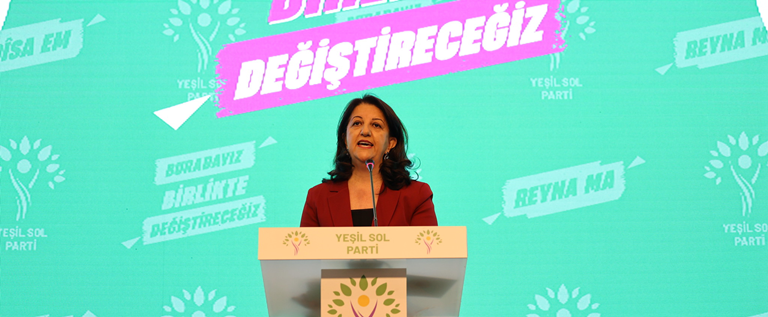 "Our manifesto is the democratic solution program for Turkey. It represents freedom, peace, justice, and a new life. Of course, we did not arrive at this point easily. We overcame all obstacles, thresholds, pressures, and conspiracies through resistance and determination. We stand on the eve of a historic turning point as we enter the second century of the republic!
The May 14 elections are just around the corner! This election marks the beginning of a new era, a great change. At the same time, May 14 will also be a historic day when the AKP-MHP fascist regime, responsible for causing the biggest evils, destruction, and darkness in the country for years, will receive their ticket out. We will save Turkey from this darkness. We are coming with full force! We are coming to uproot the language of war, hatred, and enmity from these lands, and to establish an honorable life built on the language of peace. We are coming to put an end to the policies of denial, oppression, and isolation and to solve all the century-old problems, including the Kurdish issue, through democratic dialogue. We are coming to establish a permanent peace line that will spread from Turkey to all countries in the region."
Afterwards, Green Left Co-spokespersons İbrahim Akın and Çiğdem Kılıçgün Uçar read the summary of the manifesto, which had a heavy emphasis on women's rights and workers' unions as well as ecology and Kurdish rights.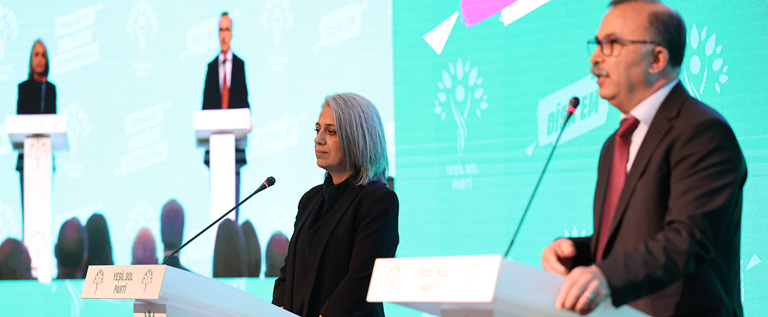 Kılıçgün Uçar said, "We are ready to write a new democratic constitution in accordance with Turkey's multi-identity, multi-cultural, multi-religious, multi-lingual structure, the constitution of the society together with democratic participation and social negotiation."
While Akın stressed that they are a democratic alternative that describes itself as the "3rd way", beyond status quo and authoritarianism, which is "to build a Turkey in which the peoples of Turkey will live in peace on the basis of equal and common citizens. We will make the second century of the Republic a democratic century in which fundamental rights and freedoms will be fully utilised and democracy will encompass the whole of society."
The party describes in its manifesto that it wants to solve the housing crisis, which has been worsened by the currency crisis and inflation in Turkey, and make Turkey a signatory to the Istanbul Convention on Violence against Women again.
The program also emphasizes independent and multicultural arts, and the protection of the natural environment.
Cross-border operations in Iraq and Syria, as well as the wider hostile foreign policy espoused by the current government, are also among the changes the party seeks.  Other pledges by the party include prison reform, and a judiciary free from government intervention.
Women's election manifesto was declared on 2nd April
On April 2nd, the Green Left Party Women's Assembly also announced its election manifesto at a special event attended by hundreds of women. At the event, our co-chair Pervin Buldan emphasized that the May 14 elections would be a vote for a regime for women. Buldan said, "We come for equal representation at all levels of administration, representation and decision-making mechanisms, for a system of co-presidency, for the protection and development of all rights, to make Law 6284 [the Law to Protect Family and Prevent Violence against Women] inviolable, and to implement the Istanbul Convention effectively."
The election manifesto titled "Dîsa jin, dîsa jiyan"(Woman again, life again) in Kurdish and "Buradayız kadınlarla değiştireceğiz" (We are here, we will bring change with women) in Turkish, states: "We will increase our solidarity through unity, and on May 14, we will send off the disastrous government of the one-man regime. We are coming with our anger to demand accountability, to build a new life, to create change with women. We will change the second century of the Republic with women!"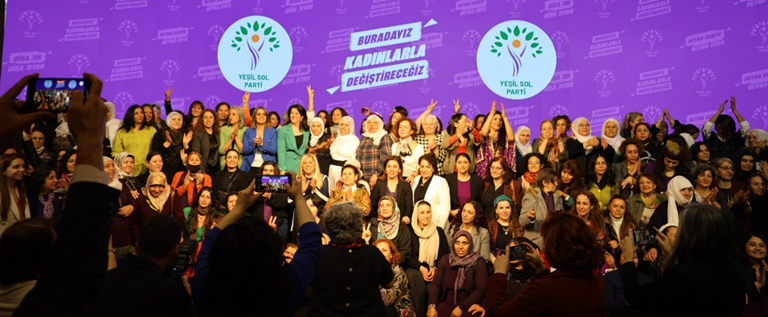 The Green Left Party Women's Assembly said that strong democracy is only possible with women's freedom and the representation of pluralism, and emphasized that women are standing to say "enough is enough" against those who ignore them, exclude them from decision-making mechanisms, lock them in their homes, interfere in their lives, and exploit their bodies and labour.
3 April 2023